Girls are not the only ones that just want to have fun! Sometimes business owners just want to have fun too! One of the best books I have ever read about business is Predictable Success by Les Mckeown. In this book, Les outlines predictable life cycle stages of business. The first stage of business is called Early Struggle because that is what many businesses do when they get started, struggle! The learning curve is steep, money is tight, you may be the clinician, the marketer, the admin staff, etc. If the business survives past Early Struggle, it goes into the Fun Stage! In this stage, you have figured it out and you are making some money and having some fun! However, if you are doing what you are doing well and there is a demand for the service then you might go past the Fun stage into Whitewater—or how the heck did we get here stage! You are working too much and it is not fun anymore. If the Whitewater stage is not handled correctly, then the business can eventually go into the Death Rattle stage, that is out of business. Sometimes businesses will go backwards and figure out a way to go back to the Fun stage which is the stage I want to focus on in this article. Many health and human service professionals I consult with want to serve and have fun. They want to have a life and are really not interested in growing a large business with large systems. They actually just want autonomy and control over the way they practice. Although they are not opposed to making a million dollars (who would be, right?), it is not their main goal. They love life and believe in the power of helping people and providing high quality services. They are frustrated with traditional practices that do not allow them to use their skill set to optimally provide interventions that maximize functional independence. But they do not want to work day and night to build a business. They do not see themselves as the CEO of a large corporation! They are not really interested in being a business person but are passionate about being the best clinician they can be. So, what to do? Here are three ways that a health and human service professional can have the best of both worlds and stay in the Fun Stage of Predictable Success
1) Become an Independent Contractor-Independent Contracting allows a person to contract themselves out to other agencies that have proven to be successful and share the same value system. By becoming an independent contractor, you can be selective in the companies you choose to work with and can include your terms in the contractual agreement. When I worked as an independent contractor, I did not deal with the same politics that the employees dealt with. I often worked no more than 15 hours per week at one agency which limited my time with administrative work. I solely came in and did my clinical work and left! Because the agency had the need for the services, I was shown high appreciation for helping meet that need. Not sure where to start with Independent Contracting, check out my ebook on amazon-Ten Simple Steps to Independent Contracting for only $9.99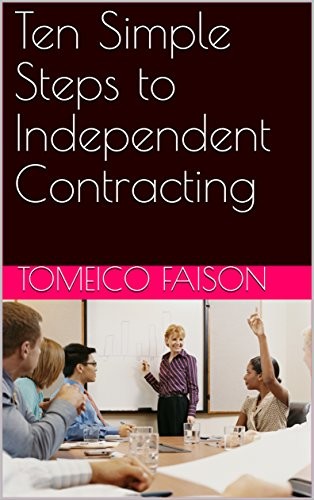 Click the link below to order on amazon.com
Ten Simple Steps to Independent Contracting on Amazon.com
2) Outsource all of your Admin Work-If you hate administrative work, then outsource it! Decide how big your fun business will be and what administrative help you will need to keep it fun! Remember a fun business is small so you will not be paying an annual salary of $65,000 a year for an office manager! You can find an affordable virtual assistant or hire someone from the local community college. It will be important to define which duties are not fun for you and ensure that you hire someone who is competent in those areas. You will be surprised at how much fun those jobs are for others. For example, my bookkeeper is amazing! She does the payroll and all of my monthly reports plus sends the taxes out! I only have to use my CPA for the annual tax return. I am sure there are amazing people in your area who would love to have a flexible job doing the work you don't want to do in your fun business. I mention bookkeepers because many therapists that I talk to don't know anything about keeping books and financial records. A bookkeeper is a great person to help you with good financial record keeping. For a list of qualified bookkeepers and accountants in your area, check out Certified Quickbook Professionals. Trust me, Quickbooks can make life easier and having a reputable professional to help you can take a way a lot of worry!
3) Barter! Some of you may be reading be thinking, Tomeico I don't have the money to outsource anything! If I hire someone, then I may not have to do the work but I am going to be broke and guess what that is no fun! I agree 100%! Being broke is no fun! However, there is no need to worry. We live in a world with abundance so you don't have to be broke. If you are charging a rate that initially does not afford you the opportunity to hire someone due to financial constraints, then you can barter. Before I talk about bartering, let me add that you should not stay in a position where you cannot ever afford to pay for admin at all. If you need help with money management, such as setting your rates, cost analyses, taxes, etc, put the money in as an investment to get someone to help you with these things. Your return on investment will be high enough that you can later hire an admin staff and have profit and have fun! Trust me on this one—you have to invest at some point. Now, back to bartering. Bartering is not a bad option to get the admin help that you need. Is there something you can give to the admin person in exchange for your services. Maybe you can provide free consult to an admin person's aging parents or their child who has a disability. Maybe you are gifted at blogging and you will do a monthly blog post for the admin person. You are filled with gifts and talents and what is fun to you may not be fun for your admin person so why not, exchange funs! Check out this article about bartering to get started? Forbes article on bartering. The video below is a little older but provides a good basic description of bartering: https://www.youtube.com/watch?v=y9brWMJSkaI
A wise person once told me, "You can make a lot of money doing a lot of things you don't like but you will be miserable and who wants that?" Why not have fun making funds!
Tomeico Faison, Wealthy Woman, is a business consultant and coach dedicated to helping health and human service entrepreneurs! Faisonconsulting.com for more information on her consulting and coaching services and ebooks!